By Kalyani Gopal, Ph.D., HSPP
---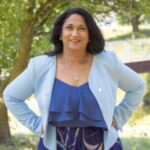 Dear Friends,
Greetings! We are in very unusual times, but then when have we not been in such times? Perhaps the terminology is different, perhaps a turn of the century event, perhaps a different crisis, perhaps even an unrecognizable time in the recent past. With recent rulings by the United States Supreme Court taking us back to States' Rights as per the Constitution, easing of gun control laws and of EPA controls; and changes in the way we deliver mental health to our patients, and conduct supervision with our supervisees; we are for our generation at least, in difficult and unchartered territory. Yet, there is a unifying force that is our code of do no harm. With all that we have gone through as healers, practitioners, educators, students, researchers, our objectives have been simple but clear. We are all clinical psychologists working within the boundaries of the intersectionality of life, death, and the in-between that is the human condition. Despite our best efforts, the dark and deep woods of temptation to classify, separate, cogitate, and then do it all over again gives way to silos and distinctions within our subspecialties creating a certain level of divisiveness that would need to be bridged. So, how do we overcome our own highly tuned critical analytic skills and continue to navigate these turbulent times?
The board in Division 12 is working hard to connect us with each other. Through webinars, trainings, and now a Multicultural Summit to address how we infuse IDEAS (inclusion, diversity, Equity, Accessibility and Sustainability) into all aspects of our clinical, academic, research and interactional world of clinical psychology.
MARK YOUR CALENDERS:
APA Convention: Please see our website: https://div12.org/apa-convention/

SEPTEMBER 9, 2022: Division 12 SCP Multicultural Summit. Topics covered by panelists and in 4 breakout rooms will be: Assessment, Treatment, Supervision, Recruitment, Retention, and Organizational Culture
May I ask each one of you to join us in this journey as clinical psychologists who identify with our noble profession, proud to embrace our identities as intersectional human beings living in a highly networked and complex world. Words matter. People matter. Our field matters. You, matter. When you're feeling overwhelmed and burnt out remember that IDEAS: Inclusion, diversity, equity, accessibility, and sustainability are the hallmarks of clinical practice and professionalism in our service to our patients, students, faculty, and the communities we serve.
Thanking you,