Welcome to the Live Webinars of Division 12. Thank you for your support!
If you have questions, please email the Central Office at division12apa@gmail.com.
October 14, 2020 2:00 PM - 3:00 PM ET
Empowerment of Clients Living With Multiple Sclerosis (MS) Presented with the National Registry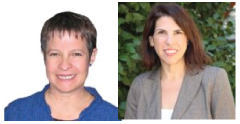 Drs. Pearl B. Werfel and Linda Trettin will present "Empowerment of Clients Living With Multiple Sclerosis (MS)." People of all races, genders, ethnicities, and sexual orientations are living with multiple sclerosis (MS). This webinar focuses on culturally sensitive, strength-based interventions to increase resiliency and enable clients with MS to better self-manage and more fully participate in their healthcare and family, community, and work life. Neuropsychological considerations and mind/body interventions for symptom management will be introduced. There are similarities between MS and other autoimmune disorders so some information may be helpful in working with other populations. Read more: http://bit.ly/NRDiv12Oct2020
You do not purchase this webinar through the SCP Website. Please register below. Register for this webinar here: https://form.jotform.com/202585722557158
Dr. Werfel is a clinical psychologist in private practice in San Francisco. She is a consultant for Can Do Multiple Sclerosis, a member of the National MS Society Healthcare Provider Council and was inducted into the NMSS Hall of Fame for Healthcare Providers.
Dr. Trettin is a clinical neuropsychologist with Mercy Outpatient Rehabilitation Center, Dignity Health (California). She is a Partner in Care with the National MS Society and serves on their Healthcare Provider Council. She is also a consultant with Can Do Multiple Sclerosis.
CE Credits Available: 1
November 10, 2020 12:00 PM - 1:30 PM ET
Improving Care Transitions for Individuals with Suicidal Behaviors: Introduction to the Coping Long-Term with Active Suicide Program (CLASP)

Presenters:  Drs. Brandon Gaudiano, Ivan Miller and Lauren Weinstock Dr. Gaudiano holds joint academic appointments as Professor in the Department of Psychiatry and Human Behavior at the Warren Alpert Medical School of Brown University and in the Department of Behavioral and Social Sciences in the Brown School of Public Health. He also works as a Research Psychologist at Butler Hospital and the Providence VA Medical Center, and is Primary Faculty in the Mindfulness Center at Brown. Currently, Dr. Gaudiano Chairs the Publications Committee of the American Psychology Association (APA) for the Society of Clinical Psychology, and serves on APA's Advisory Steering Committee on Clinical Practice Guidelines, which oversees the process of treatment guideline development.  His research has been supported by numerous federal and private grants related to developing and testing transitions of care interventions for individuals with severe mental illness.
Dr. Miller is a Professor in the Department of Psychiatry and Human Behavior and Director of the Psychosocial Research Program at Butler Hospital. He is also Director of the Brown University Consortium for Research Innovation in Suicide Prevention
Dr. Weinstock is an Associate Professor of Psychiatry and Human Behavior at Brown University, where she conducts research on suicide prevention across vulnerable care transitions.  She is a faculty affiliate of the Center for Prisoner Health and Human Rights and Associate Director of the Brown Consortium for Research Innovation in Suicide Prevention. Dr. Weinstock serves on the AFSP Scientific Advisory, and has provided consultation to numerous federal workgroups focused on best practices in bipolar disorders and suicide prevention research and treatment.
Overview: Suicidal behavior is a major public health problem in this country. Despite the significance of this issue, relatively few interventions to reduce suicidal behavior have been developed and empirically tested/validated. We have developed a new intervention called Coping Long Term with Active Suicide Program (CLASP) that targets multiple risk factors for suicide using a unique combination of formats (in-person and telephone) and therapeutic strategies (values-goals clarification, problem solving, significant other support). The CLASP intervention is an adjunctive intervention specifically designed to reduce subsequent suicidal behavior in high risk populations during times of acute risk or transition. CLASP has three major components: initial one-on-one sessions, a family meeting, and a series of follow-up phone contacts with the patient and his/her significant other. The strategies used in CLASP are adapted from two main therapeutic approaches: Acceptance and Commitment Therapy (ACT) and the McMaster Model of Family Functioning. Recent research has demonstrated that CLASP produces significant reductions in suicidal behavior in high risk patients transitioning from emergency departments and psychiatric inpatient units.  This webinar will provide an overview of the CLASP intervention, intervention materials, case examples and empirical research, so that clinicians and researchers can consider utilizing this intervention in their own settings.
Learning Objectives: 1. Describe the CLASP intervention, including its components and empirical research that supports it. 2. Identify the advantages and challenges of providing a telephone-based intervention to high-risk, potentially suicidal individuals. 3. Explain how values-goals clarification strategies can be adapted to target suicidal behaviors.
CE Credits Available: 1.5
Pricing: $0 for Members / $50 for Non-Members
Members must be signed in for discount.
Please Note: After purchasing, you must follow the registration link provided in your purchased webinar details to REGISTER for the webinar. It is a 2-step process. All purchased webinars are listed HERE.
To Be Rescheduled
Primary Care Behavioral Health Integration, A Case Example: Alcohol as a Vital Sign

Panelists: 
Drs. Andrew Bertagnolli, Thekla Ross and Stacey Sterling
Overview:
The content of this webinar was derived from a published review of studies focusing on behavioral health integration in primary care and a large-scale alcohol screening and brief intervention study at Kaiser Permanente Northern California. This webinar will describe the pillars and pearls of primary care behavioral health integration as well as implementation strategies to effectively embed an evidence-based practice like alcohol screening and intervention in primary care.
Objectives:
Describe the primary care behavioral health model
Summarize the pillars and pearls of behavioral health integration
Provide evidenced based background for alcohol screening and intervention in primary care
Describe real world implementation tips and tools from published Alcohol as a Vital Sign study
CE Credits Available: 1