Diversity Spotlight: Sannisha K. Dale, PhD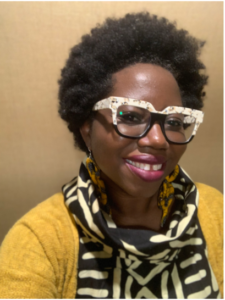 The current spotlight focuses on the specific contributions of Dr. Sannisha K. Dale, a dual licensed clinical psychologist (MA/FL) and Associate Professor at the Department of Psychology at the University of Miami. Dr. Dale earned her Master's degree in Human Development and Psychology at the Harvard Graduate School of Education in 2005, and completed her Ph.D. in Clinical Psychology at Boston University in 2014. She completed her predoctoral and postdoctoral training at Massachusetts General Hospital/Harvard Medical School (MGH/HMS) in both 2014 and 2015 respectively. Thereafter Dr. Dale was an Assistant Professor in Psychology at MGH and an Instructor in Psychology at HMS. Dr. Dale later joined the Psychology Department at the University of Miami in 2017 where she serves as an Associate Professor in Psychology with tenure and holds a secondary appointment in the Department of Public Health Sciences at the University of Miami Miller School of Medicine.
As a scholar, Dr. Dale's research examines the intersections of mental and physical health and works to develop evidence-based psychological and behavioral tools. This research interest coincides with her position as the founder and director of the SHINE (Strengthening Health through Innovation and Engagement) Research Program. The program holds several objectives, which include but are not limited to (a) increasing knowledge surrounding the relationship between resilience, trauma, and health outcome for marginalized communities with or at risk for HIV, (b) investigating the psychosocial and structural factors that contribute to health inequities, (c) developing preventative and intervention-based strategies to foster resilience and positive health outcomes, and (d) engagement community members and partners in research.
Dr. Dale's scholarship has resulted in the publication of 58 peer-reviewed articles, 11 chapters, and over 100 presentations nationally and internationally. She has been cited over 1.7k times and gained media exposure from her expertise. Dr. Dale has been a PI of 13 grants in the area of HIV (e.g. NIMH R01 on Black women living with HIV, T32 focused on training the next generation of HIV and mental health inequities researchers, 2-year implementation science EtHE Supplement from NIMH focused on Black communities hardest hit by HIV in Miami). Her contributions have earned her many honors and awards. Most notably, Dr. Dale was the 2016 recipient of the APA division 45 Emerging Professional- Contributions to Research Award, Harvard University Center for AIDS Research's 2017 recipient of the Inaugural Rhoda Johnson-Tuckett Award for Community Engaged Research, APA's Division 12 2018 recipient of the Samuel M. Turner Early Career Award for Distinguished Contribution to Diversity Research in Clinical Psychology, the 2019 Melba J. T. Vasquez Early Career Award from APA Minority Fellowship Program, and the 2021 Foremother Early Career Mentorship Award from APA Division 35, section 1.
It was an honor and a privilege to interview Dr. Dale. In light of her outstanding contributions to the field, I posed the following five questions and have included her responses below.
1) How do you think the pandemic and post-pandemic living has influenced resilience, trauma, and health outcomes for marginalized communities with or at risk for HIV? What do you think therapists, scholars, and policy-makers can do to support these at risk individuals?
I think when you consider COVID, it's a traumatic event. So, when you reflect on the lived experiences of individuals who face intersectional oppression, it becomes clear that there were already systems that were not set up or intentionally designed to negatively impact them. Consequently, there was already a heavier mental health burden. These individuals faced discrimination based on multiple identities that targeted them, along with the likelihood of their housing and employment being affected. Their support systems were also impacted. With the arrival of COVID, another layer of trauma was added. Yes, the entire world has been exposed to COVID, as it is still present in many ways. However, the ways in which it affected communities that were already marginalized were significantly more pronounced. We have observed higher rates of death and losses in these communities. Therefore, the cumulative loss in terms of jobs and housing, as well as the resources they could access, has been substantial. It has had a profound impact on numerous people, including small businesses that may have closed during the COVID epidemic. Moreover, those individuals on the front lines, not just in medical terms, but also the ones delivering essential services like food, were more likely to contract Long COVID. They are also likely to experience a disproportionate impact in terms of long-term disability and other related issues. Unfortunately, if anything, COVID has merely exposed and intensified the existing structural forces that were already at play, exacerbating the challenges faced by minority communities.
Other individuals, such as scholars and researchers in the field, play a crucial role in supporting this community. I believe that for therapists, it depends on their training and the specific approach they take. Different training programs have varying perspectives and methodologies. What has become evident is that in 2020, both with COVID and the Black Lives Matter protests following the murders of George Floyd and Breonna Taylor, non-Black individuals seemed more shocked by the level of trauma historically faced by these communities. This increased awareness has led to more interest in understanding how these issues manifest. However, it remains uncertain whether this enthusiasm has persisted authentically.
For therapists, policymakers, and anyone seeking to intervene, it is essential to think critically about their respective fields. In the context of therapy, one should consider how systems manifest in their work, how they care for clients, how they refer to individuals, how they intervene, and how they address the stressors faced by their clients within the therapeutic setting. It is also important to reflect on the therapeutic tools used and their potential to be helpful or harmful. Additionally, therapists should create space for cognitions that are rightfully distressing and heavy, acknowledging the reality of their clients' lived experiences.
So, it's about allowing clinical work or research to be informed by intersectionality in terms of theory and the actions it calls for. Simultaneously, it is crucial to recognize not only the active workings of oppressive systems but also the resistance and resilience within these communities. Sometimes, when individuals are new to intersectionality theory, they may feel overwhelmed by the realization that things are terrible. However, it is important to avoid the savior mentality and understand that fixing the system is not an overnight process. Instead, it is necessary to appreciate the existing resistance and consider how to further support community-led efforts by those who have been actively involved and understand the intricacies of the situation.
Being part of the change means avoiding perpetuating the same hierarchies and power imbalances. It means not simply swooping in with resources and claiming to make a change without considering how to direct resources to the people who have been on the front lines, part of the community, and instrumental in driving sustainable change. It is a complex task, but the commitment to understanding and awareness of the situation is vital.
2) You have presented, mentored, and published on many topics related to the intersections of mental and physical health. What other areas of contributions do you see yourself working towards in the next 5 years?
I'll tell you something I say to people all the time when they ask me about my 10-year plan, or even ask me things about institutions and why I think certain institutions are worth being a part of. I say to them that I'm not loyal to an institution or even an academic role per se. But I know that I'll always be in this work. Meaning, if we arrived at a place where there was a cure for HIV or everyone had access to medication and everyone had viral suppression, and nothing else was needed, and it was like, okay, HIV, there's nothing to address, I would still be in the space of doing work in terms of thinking about minoritized communities and our communities. So, I don't think I'll stop. I think it's my 'why', and I think there will always be a lot of work to do, and good work to do. And so, I'll continue to do that. What that may look like or where I do that from, I think is just a matter of how life changes.
3) Many students are navigating the question of "what comes next" following graduation. I am curious if you ever experienced this and how you found yourself in your multiple intersecting roles.
Yes, interestingly enough, I stumbled upon an answer early on. Not the exact answer in terms of collecting this specific data or publishing this exact paper, as it is more of an evolution of different elements coming together. However, I always knew that I wanted my work to be an answer to my "why." Why am I in this field? Why am I doing this? For me, my "why" is utilizing my time, resources, and access to make a positive impact on communities, particularly marginalized ones. This "why" has always remained consistent.
Although I received training in clinical psychology, a field where community-focused work is often not emphasized, I was aware of the outdated notions of rigor and what is rewarded in many clinical psychology programs. It involved taking courses and discussing ideas, but there was a disconnect in the way people thought about things. I felt that they didn't truly understand, despite their degrees and accolades. There's nothing inherently wrong with having those degrees—I have one myself—but limited expertise becomes evident in the gaps, the way questions are asked, how analyses are conducted, and the resulting conclusions. Recognizing this, I brought my own identity and lived experiences into those spaces, knowing that there was more to be considered.
In order to answer my "why," I always wanted to authentically incorporate my lived experiences into my work and consistently think about the community and how to engage with it. Specifically, when it comes to HIV, my desire to work within this field is both professional and personal. I quickly realized its disproportionate impact on communities, including Black women, transgender individuals, and LGBTQ+ individuals, as well as immigrants. I also saw the intersection between HIV and mental health, which is my clinical area of expertise. My heart naturally led me in that direction, seeking to do meaningful work while avoiding harm. This involved going beyond the academic tools I was taught and maximizing the potential benefits by recognizing and honoring the lived expertise that exists within communities.
4) You have mentored many students within your career, and I am sure many might have wanted to follow in your footsteps. I am wondering if there were any takeaway messages or advice that you shared with them and would like others, particularly those holding multiple marginalized identities, to hear as well.
I think it's important to pay attention to the things that bring you joy. It doesn't have to be as technical as creating a daily tracklist or analyzing your mood. It's about keeping a mental note of where you find joy, peace, gratitude, or a sense of fulfillment. The more we focus on those moments, the easier it becomes to gravitate toward activities that align with our purpose. Additionally, it's valuable to explicitly ask ourselves certain questions. In dialectical behavior therapy (DBT), there's an exercise where people write a letter or their own eulogy, envisioning what they would want others to say about them at the end of their life. It helps to think about our values and what we want to achieve. It's okay to consider what we want to be remembered for or what kind of impact we want to have. For me, it's never been about tangible achievements. I often joke that my CV will never fit on my headstone. It's not about collecting accolades. What brings me the greatest joy is the positive impact I've had on people I've had relationships with—family, friends, mentees, participants, anyone. I cherish the memories where I made a positive difference in their lives. It's important to reflect on that and consider the narrative we want for ourselves and how we want to be remembered. This reflection also helps us navigate through life's ups and downs. Whether it's making tough decisions about what to prioritize or what to let go of, we need to assess what brings us joy and what drains us. We have to find a balance. When it comes to my students and mentees, I often discuss their journey with them. I remember what they said during their applicant interviews, but I don't hold it against them. I ask them what aspects of their current activities they still enjoy and what they see themselves doing in the future. Being a graduate student exposes them to different experiences and people in various fields, which can provide clarity about their own aspirations. It's important to pay attention to those moments and be aware of what resonates with them. At the end of the day, the scripts we've been given on how to excel as psychologists or clinicians are just scripts. Some may be more rewarded by academia than others. But it's crucial to have personal introspection and ask ourselves, "What do I want for myself?" and "How can I achieve that?", and then to do it your way.
5) Finally, you hold many positions as a scholar, mentor, licensed psychologist, professor, and director. How do you balance these competing roles, while making time for yourself in the process?
I value authenticity, so it's interesting to receive this question and reflect on my earlier career when I rarely admitted to feeling tired or exhausted. I would often say, "I'm fine" or focus on the positive aspects. However, at some point, I consciously made the decision to acknowledge and embrace the fact that when you take on a lot, exhaustion is natural. Being authentic about that is important. It also challenges the stereotype of the "Strong Black Women," the expectation for Black women to do it all. I recall a powerful quote from Zora Neale Hurston, "If you are silent about your pain, they'll kill you and say you enjoyed it." In terms of self-care, I believe it's crucial to acknowledge and communicate where I am emotionally and physically. This includes admitting when I'm tired, in need of a break, or require support. It's essential to create a space for those around me, my partner, team, and others, to have these discussions as well.
For instance, during my weekly meetings with students and mentees, we not only follow the agenda but also check in with one another. This check-in involves a wide range of emotions and experiences. Some may express that they've had a challenging time, and they receive words of empathy or acknowledgment. Others may require more emotional support or additional check-ins. I reciprocate by sharing my own state and needs. Setting boundaries can be challenging in academia because external demands often encroach upon them. For example, I may establish a boundary of stopping work at a specific time each day, but if a mentee needs assistance with a fellowship application that requires urgent attention, I may need to make an exception. So, it's about not expecting perfection from myself. I acknowledge the moments when I can hold my boundaries and plan proactively to incorporate rest.
Furthermore, it's important to be mindful of allowing myself to do nothing. Earlier in my career, I used to be constantly engaged with work, even in my thoughts and dreams. As someone deeply connected to my work, I find joy in it. However, I've learned to give myself permission to disengage and not associate every moment of thinking with productivity or output. This, too, is a form of self-care. Additionally, there are times that call for a complete pause, where I prioritize my well-being over everything else. In those moments, I shut everything down and focus on breathing and taking care of myself. It's crucial to recognize that life involves a lot of labor, and this labor can have detrimental consequences on our health and well-being. My parents used to remind me of this when they said, "Work can kill you, but you can't kill work." While work may never cease to exist, we have to acknowledge that the pursuit of perfection is someone else's narrative, often driven by capitalism. We are enough, and we don't have to push ourselves to the limit or exhaust our capacities to do meaningful and impactful work.
Written by Esther Lapite, M.A.